July 30 - August 3, 2018
St. Stephen's
This event has already occurred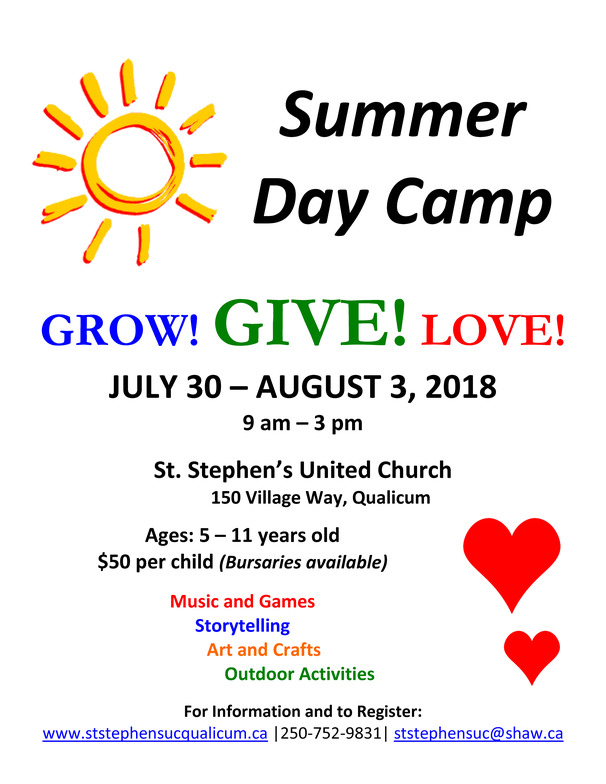 St. Stephen's United Church is offering a week-long summer day camp for children from July 30th – August 3rd.
The theme is GROW! GIVE! LOVE! Through drama, story, art, crafts, games, and times of quiet children will discover what it means to be grounded in God's love and to grow in generosity. Each day of the programme they will explore different questions such as: How do we talk to and connect with God? How do we share with others? How do we make sure there is enough for everyone? What does it mean to be a friend?
The programme is designed for children ages 5 to 11 years old and will run from 9:00 am to 3:00 pm each day. Snacks are provided morning and afternoon and children will need to bring their own lunch.
The cost is $50.00 per child for the week and bursary money (up to $25.00 per child) is available for all families who would like some help with the cost.
For more information contact: St. Stephen's office – 250-752-9831 [email protected]
To register, please complete the Registration Form, Medical/Photo Waiver, Bursary Application (if applicable) and drop off or mail to the church office along with your registration fee.
Office is open Monday - Thursday from 8:30am until noon.